The article, A New Leaf, on page 30-31 of this Summer's first ever ETSY JOURNAL features tropical palms in all their glory, shot by Photographer Chelsea Cavanough.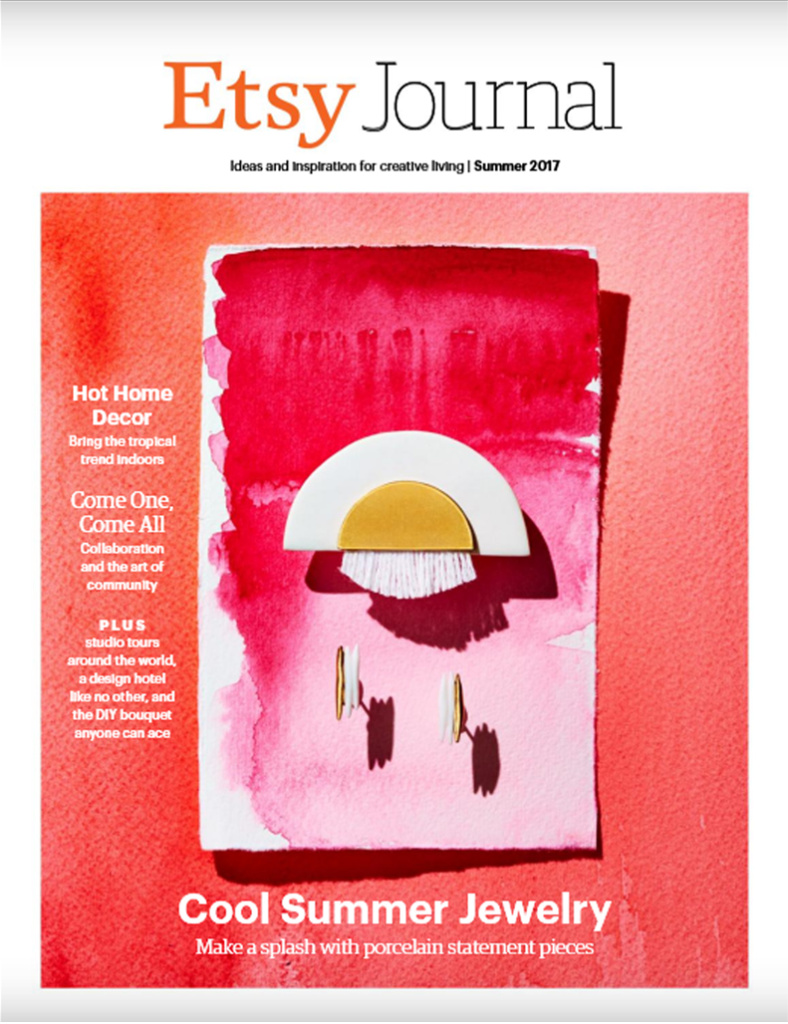 Full of features about artists and their work, grab a cup of coffee and enjoy!  And don't miss PAGE 30!  Look at this image below shot by photographer Chelsea Cavanaugh.   ETSY Art Director Alexandra Drosda assembled all items from the Etsy sellers featured here. The bold jewel tones, on trend brass accessories and lighting, teal blue hues, rattan, natural wood and other contemporary elements combine to create a fresh look.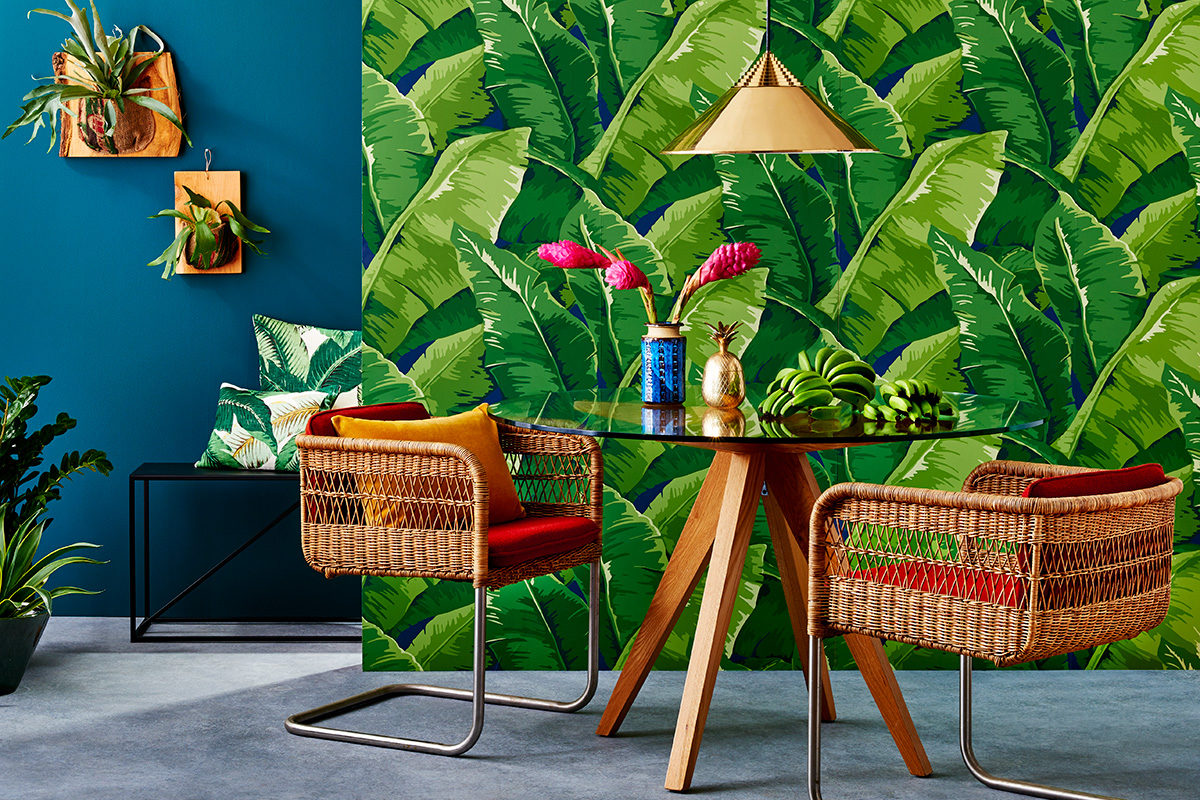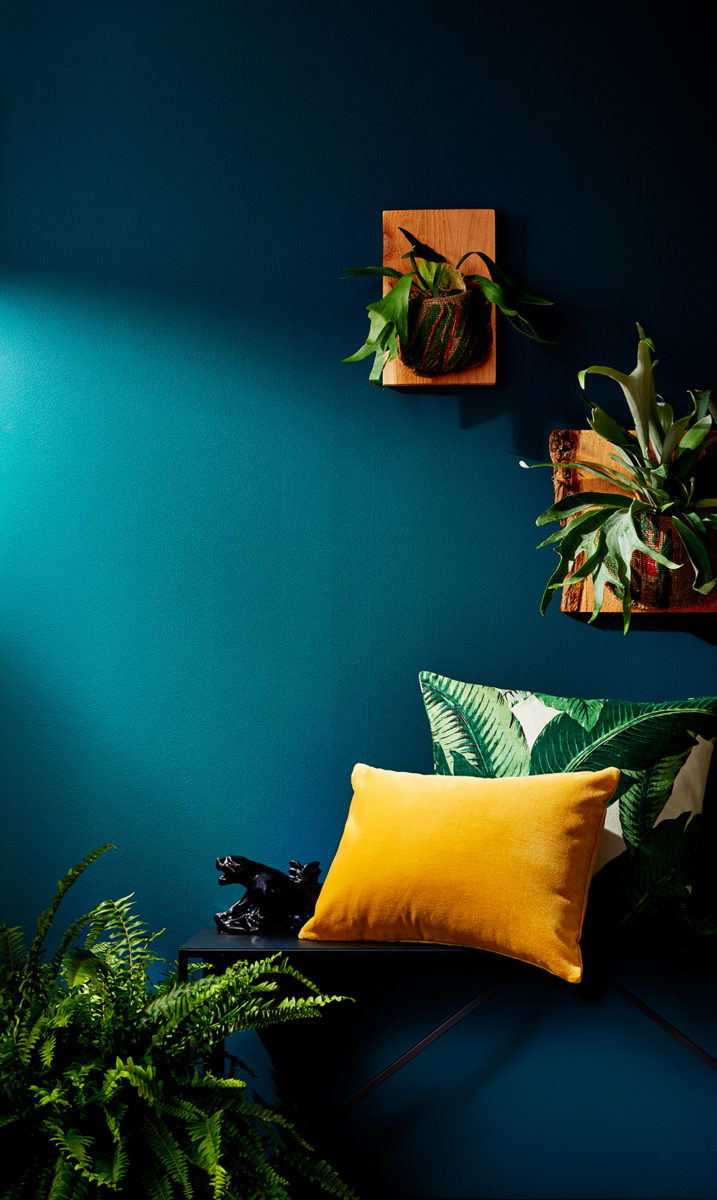 This tropical design "trend" has been going on for awhile now.  Decades actually.  It is just endlessly reinterpreted every decade or so and adapts, like plants, to its current environment.
The Swaying Palm Pillow in colorway ALOE has been a consistent best seller for a long time.  Sold in both outdoor polyester and indoor linen, it adds freshness to any space.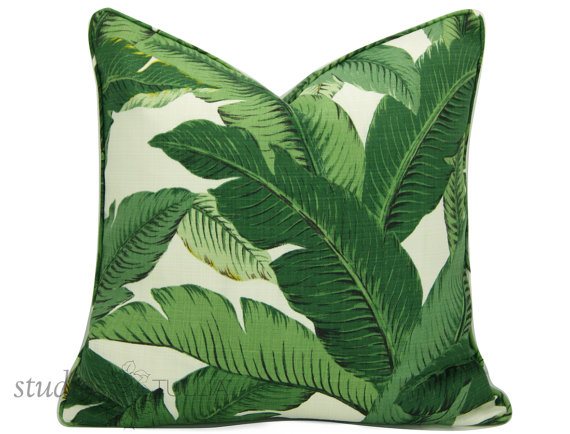 It has a touch of golden yellow in it so it looks lovely with saturated yellow hues.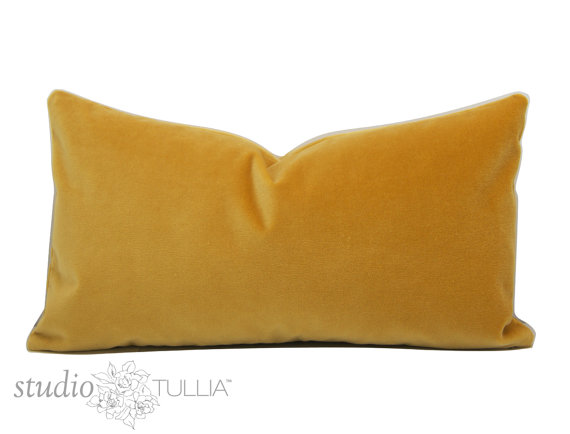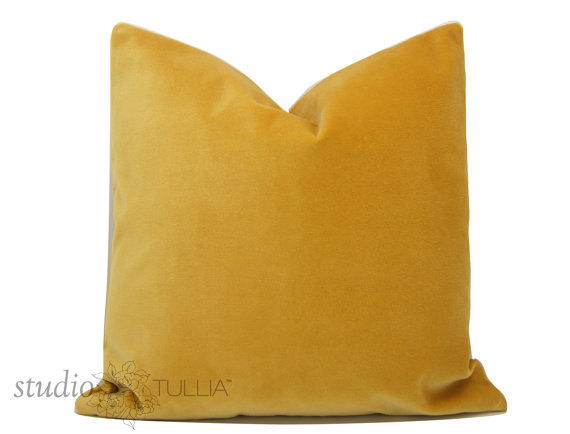 Sold in a multitude of sizes: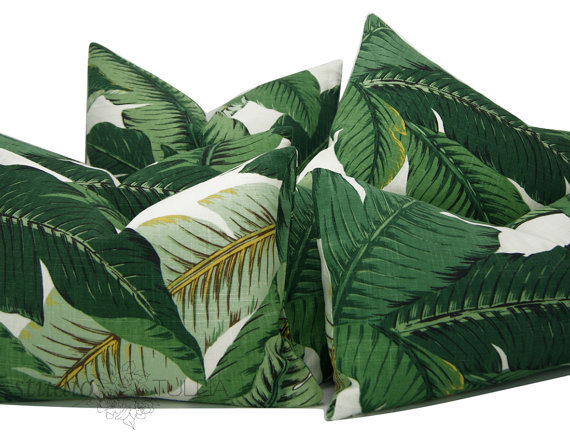 This is the newest addition to STUDIO TULLIA's offerings – a long lumbar measuring 13×33
(14X36 inch insert required) that would look amazing on a long sofa or bed.
  
EMERALD GREEN has always been a striking color that works beautifully with the palm pattern: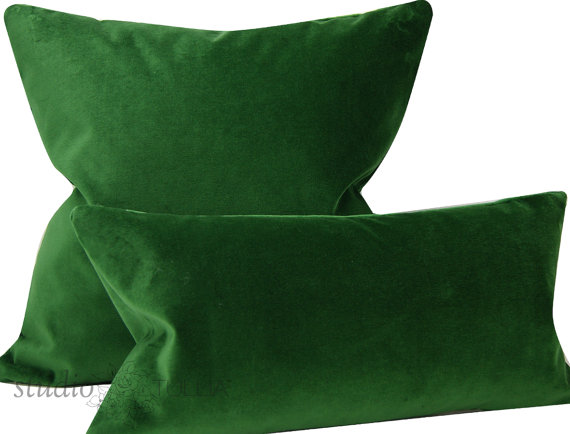 Just this SUMMER the iconic SWAYING PALMS fabric became available in two new colorways:
"ISLA PINK"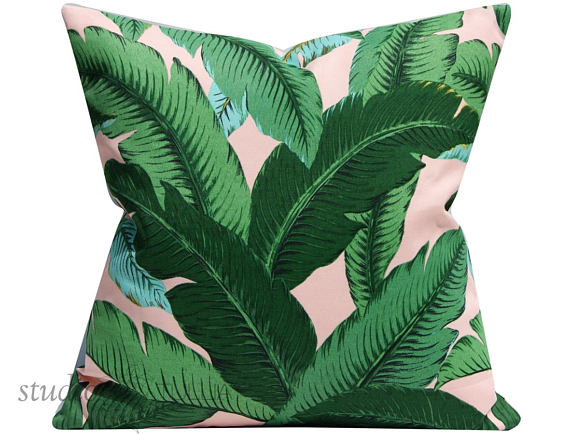 and "ESCAPE BLUE"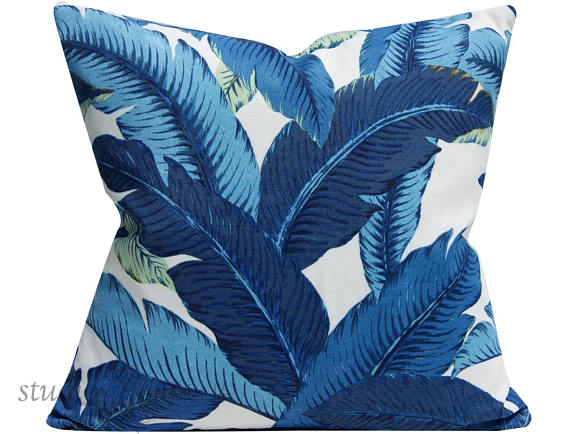 and look how it just pops with this peacock blue velvet: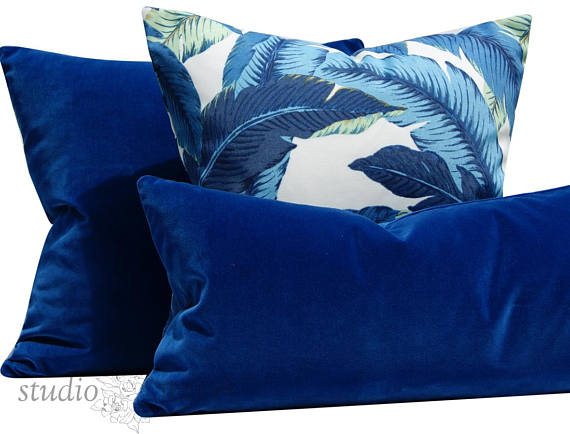 The stag horn ferns featured in the photo shoot are stunning and I was thrilled to see that they are available right here in Portland at PISTILS NURSERY
Look at some of the amazing plants available at their brick and mortar in Portland, online or at their ETSY STORE for $48 and up: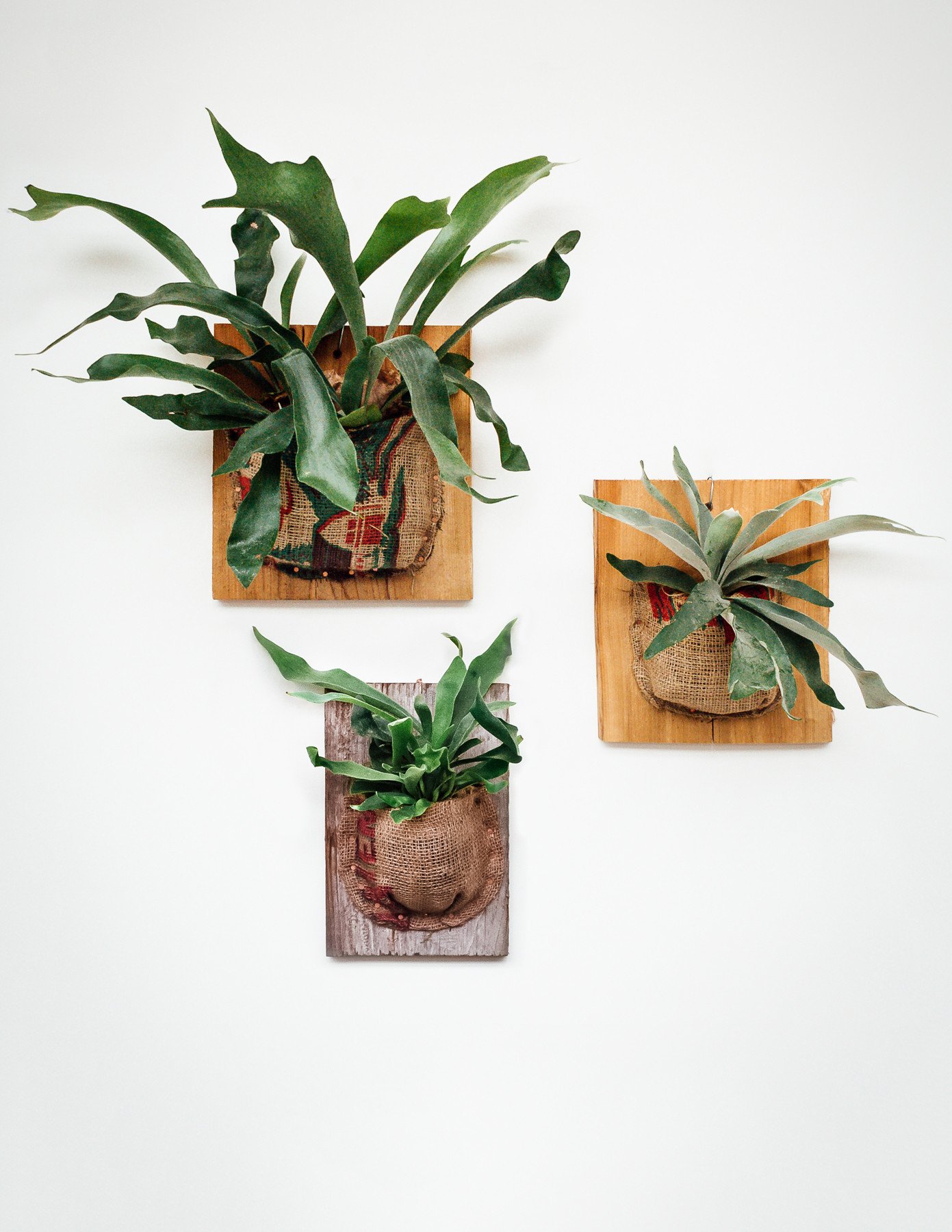 And one last shout out to WALL HALLA out of the NETHERLANDS for the crazy beautiful Banana Leaf self-adhesive wallpaper.  The one featured in the article: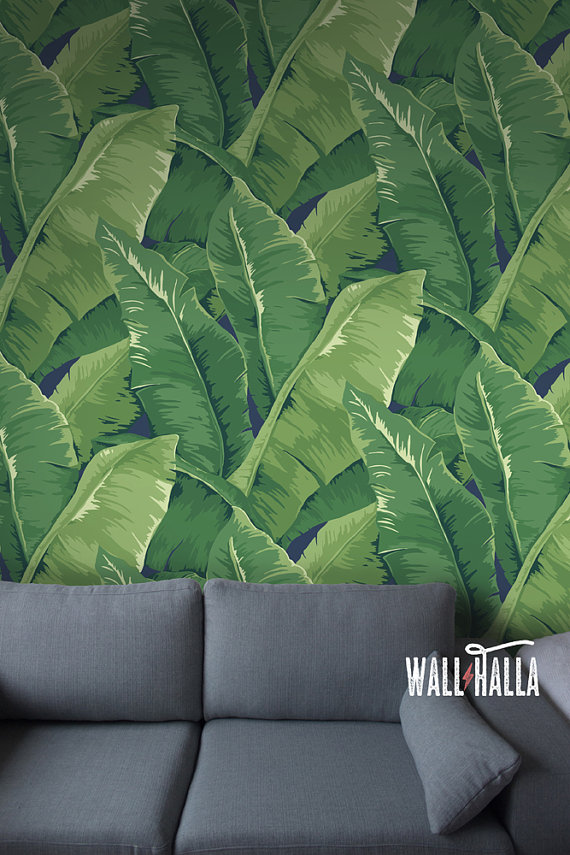 I LOVE this one: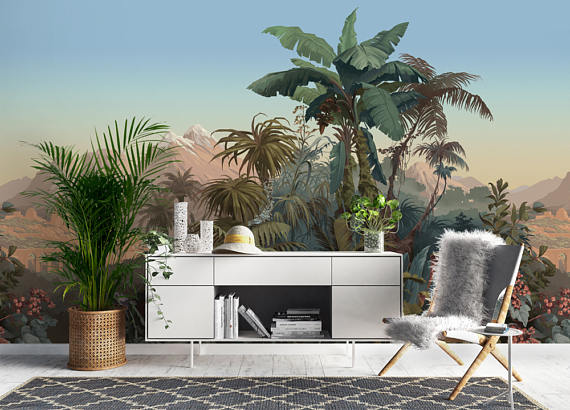 and these are also wonderful: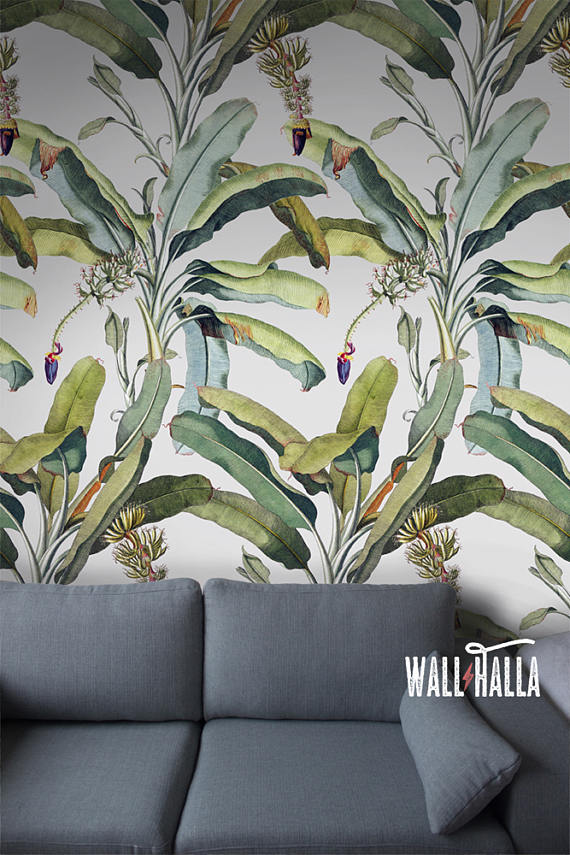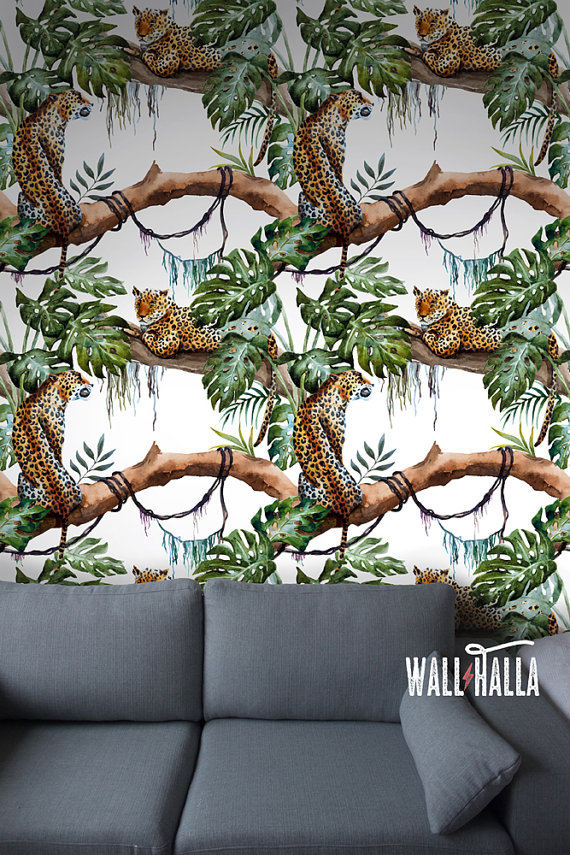 You know the end of Summer is sadly near – only a couple weeks away – so from now until the Friday, September 22nd, you may enjoy 20% off any purchases of Swaying Palm at my ETSY STORE or www.studiotullia.com using

(this coupon cannot to be used on any other products that are not tropical/palmy in nature).
Thanks as always for following along and enjoy the rest of your week!