Well, I am SO happy to share with you some pictures from the ORC FINAL REVEAL of my upstairs GUEST ROOM!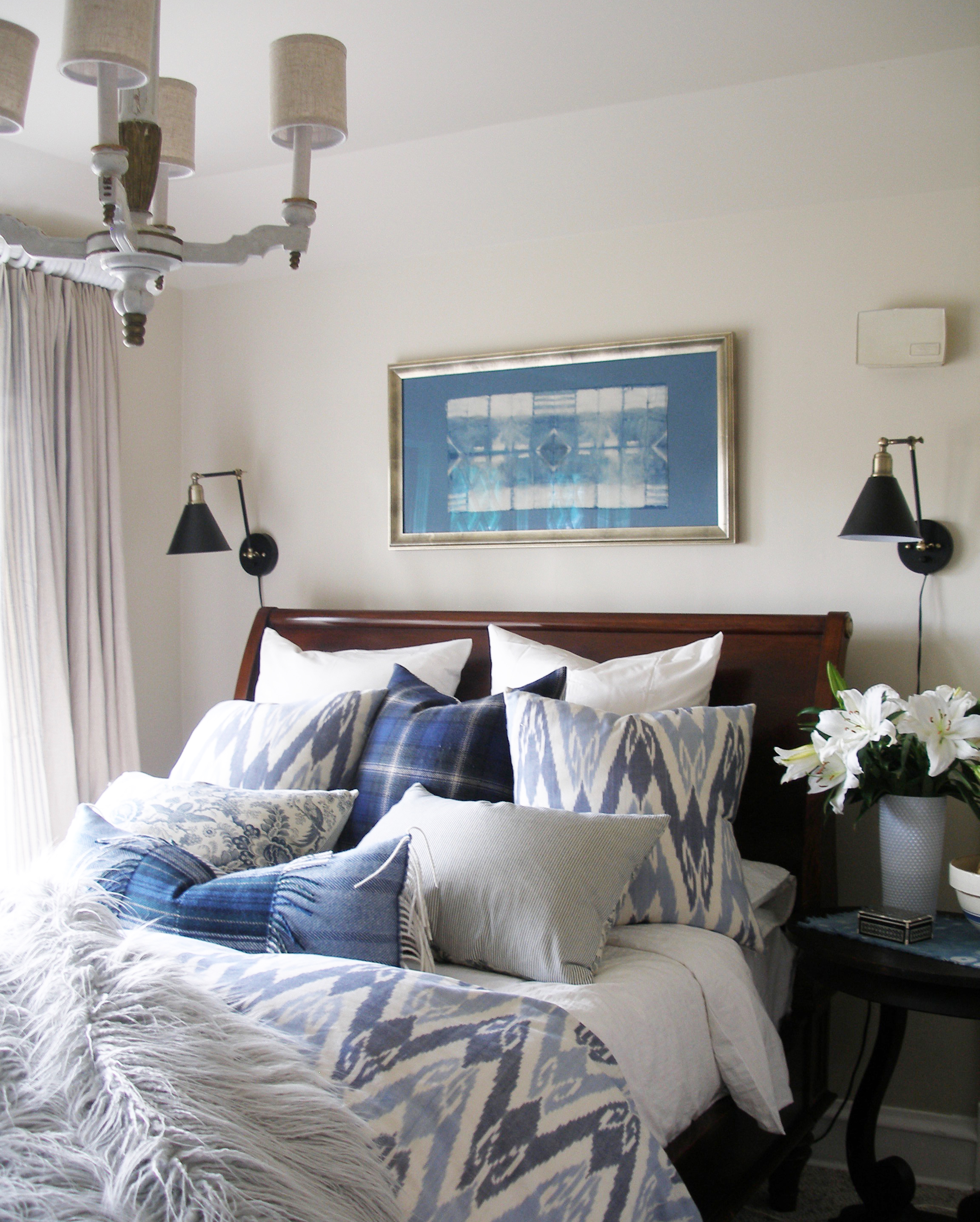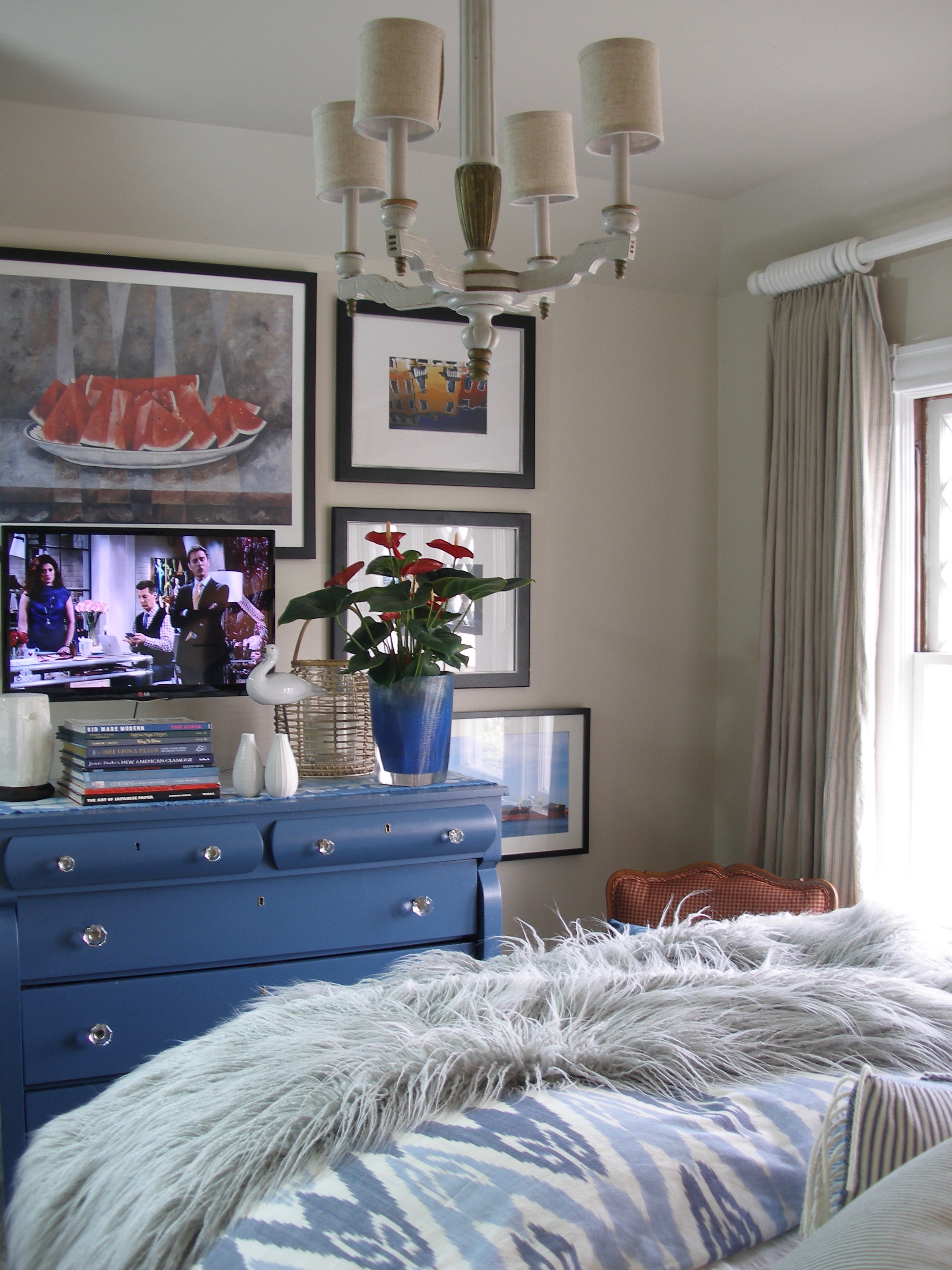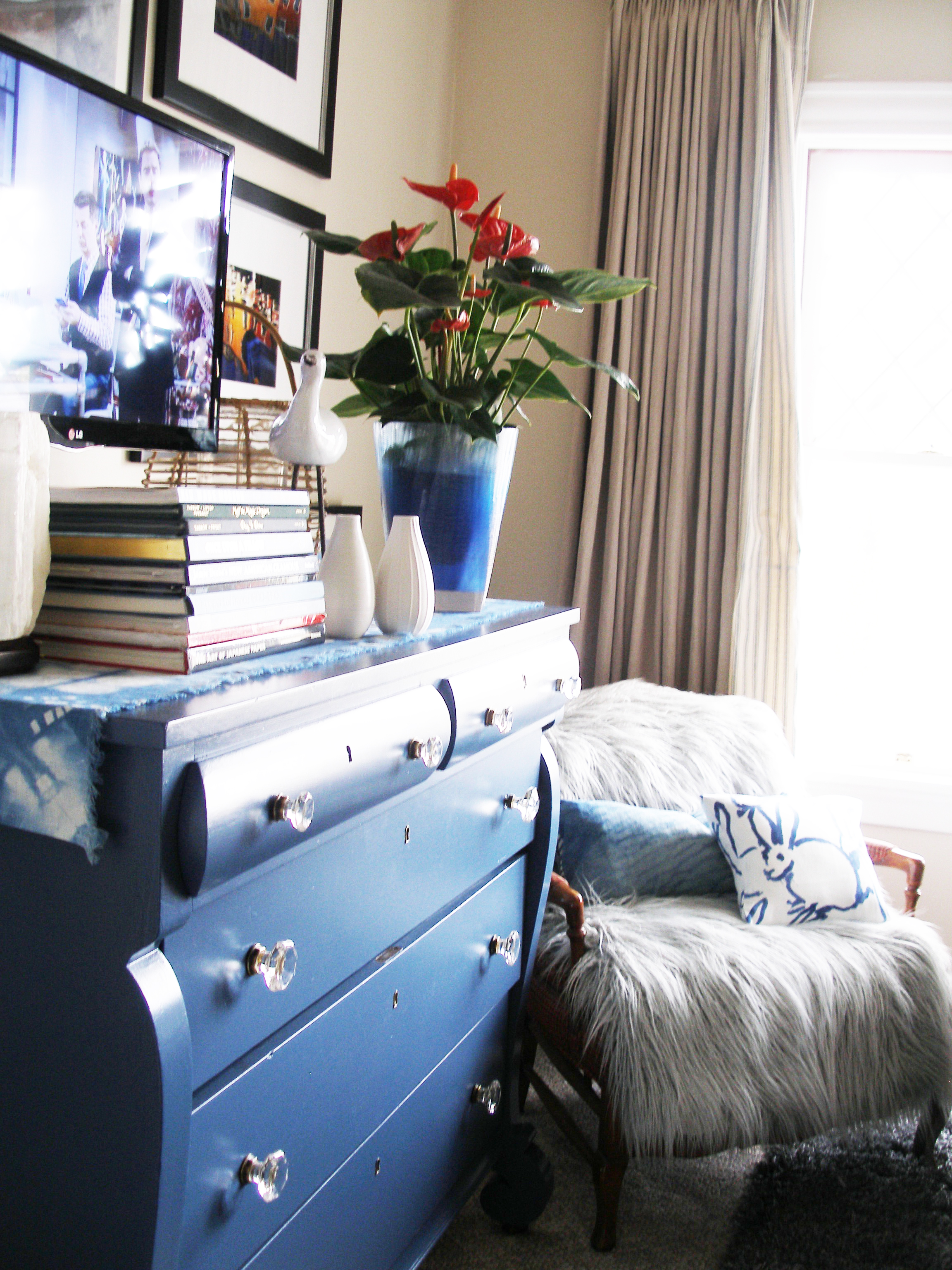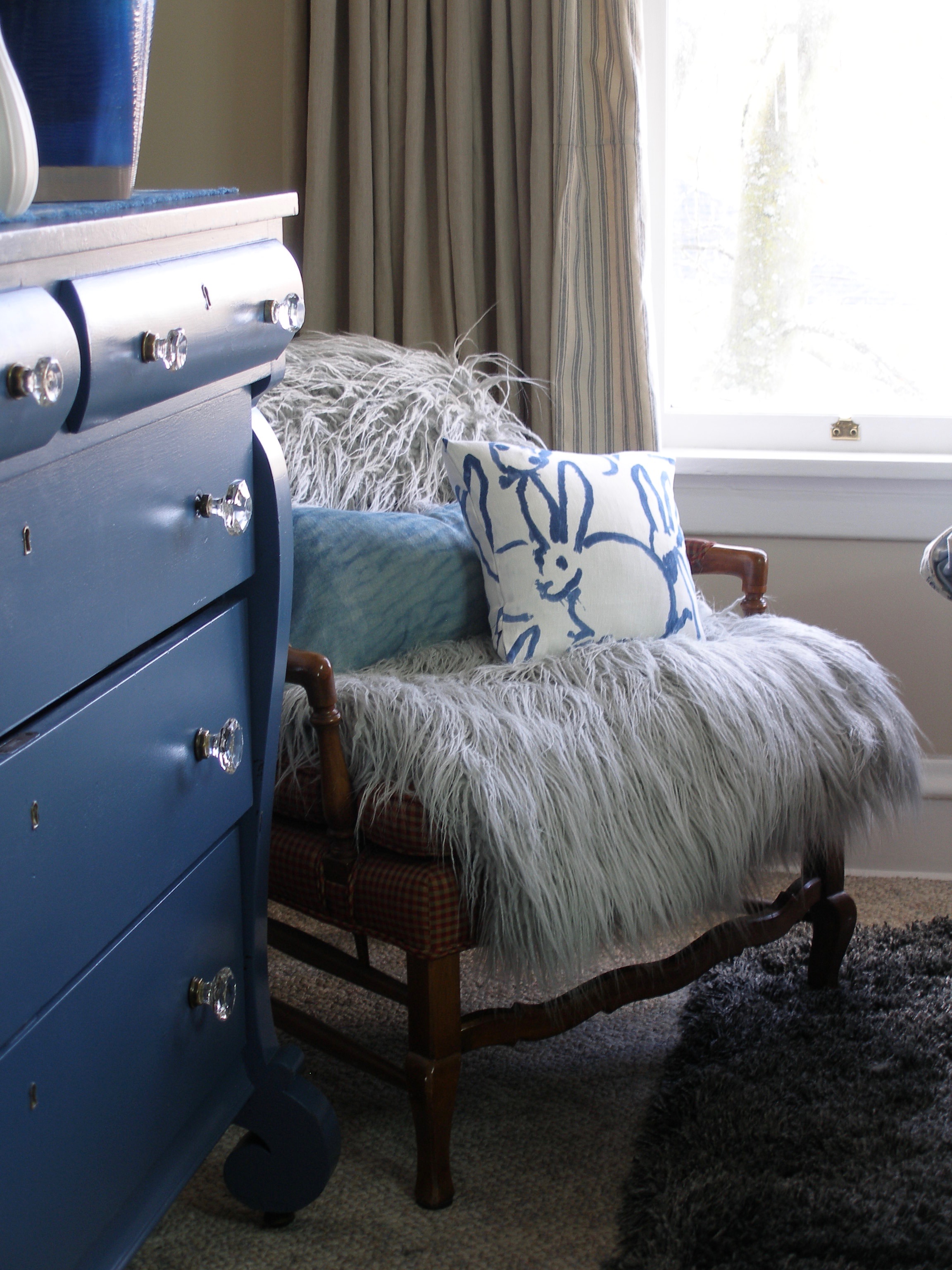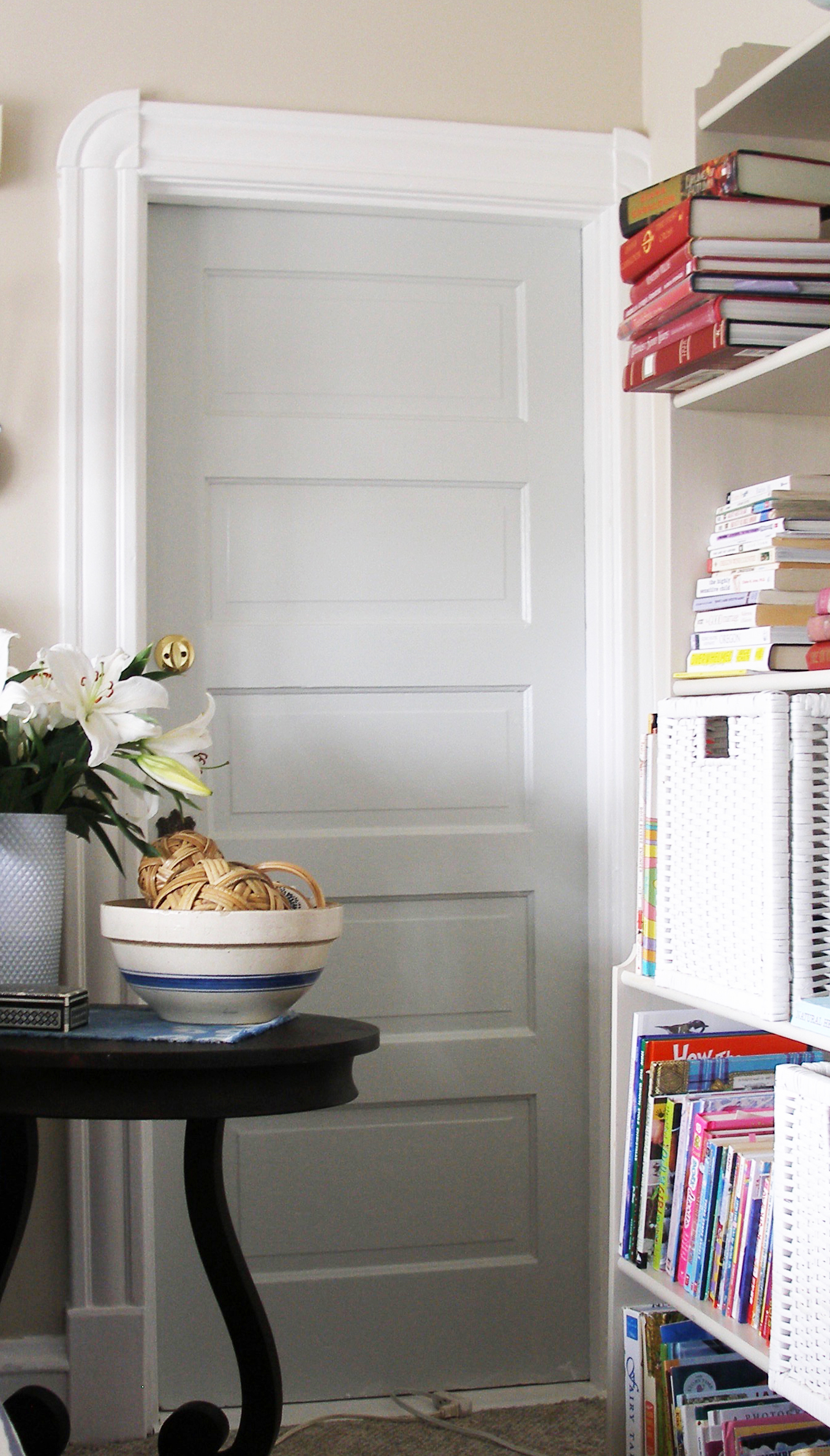 I have to tell you that I really struggled with this room. I thought I had it all together and a couple days before the reveal I was NOT HAPPY with the results.   I did a few things  that turned the room around.  The bedding felt lifeless, the room too traditional, and I was uninspired by the art.  It was not cozy enough.
I added WHITE:   white baskets, white duvet cover, shams and pillow covers from IKEA, fresh white paint on the trim,  white lilies in a white vase. In an old house, in low light Portland, I have learned that nothing makes a room look fresh and modern better than WHITE.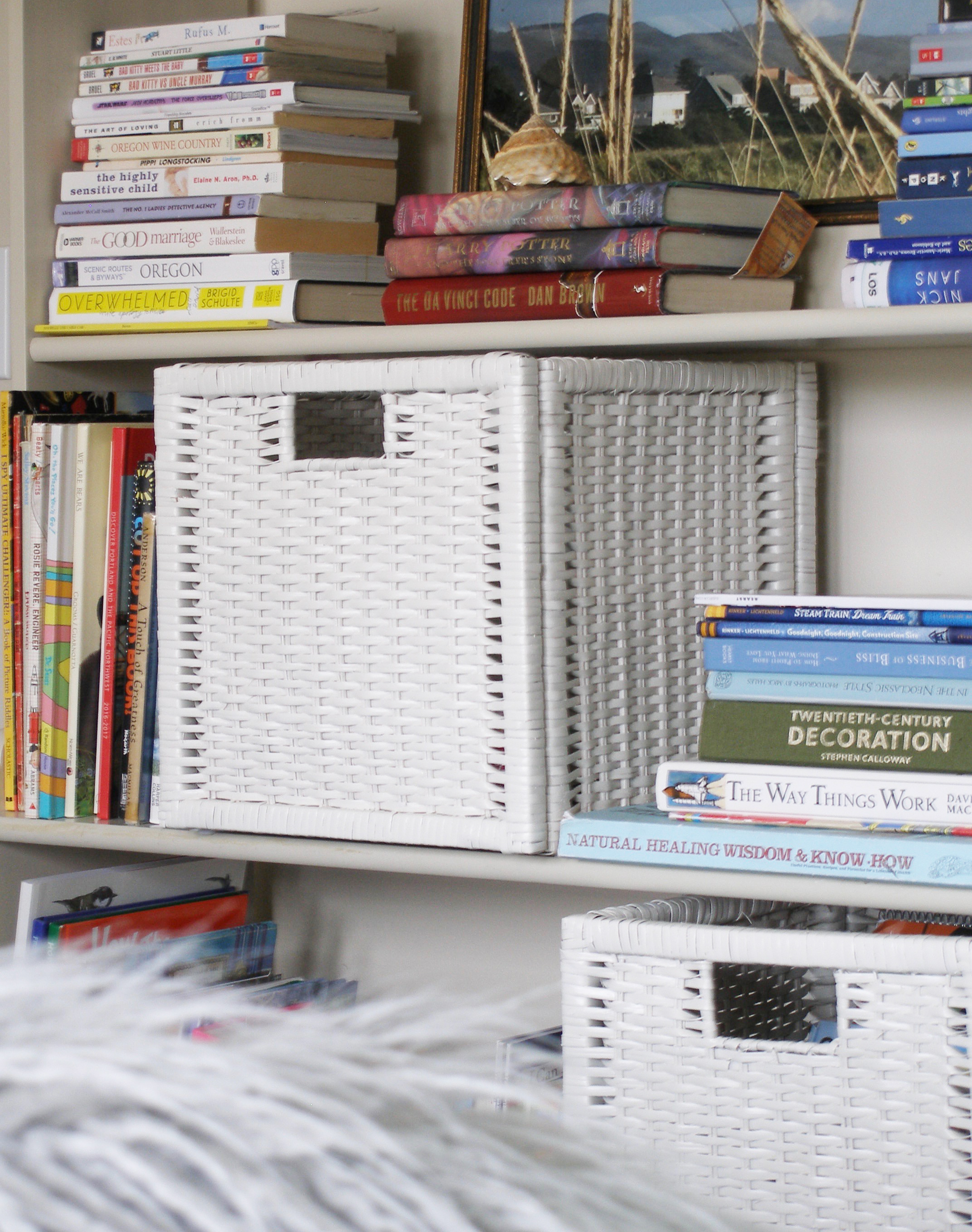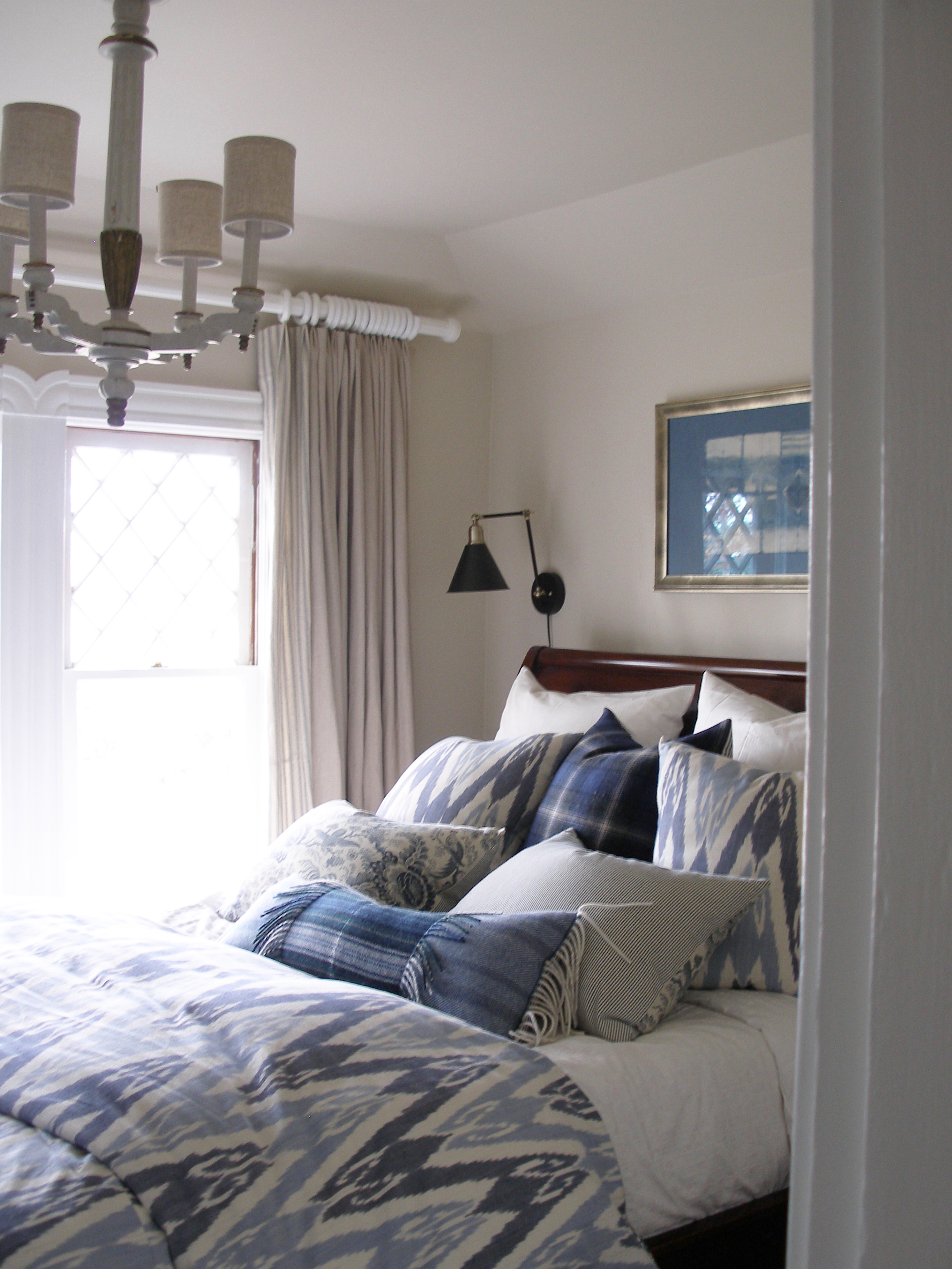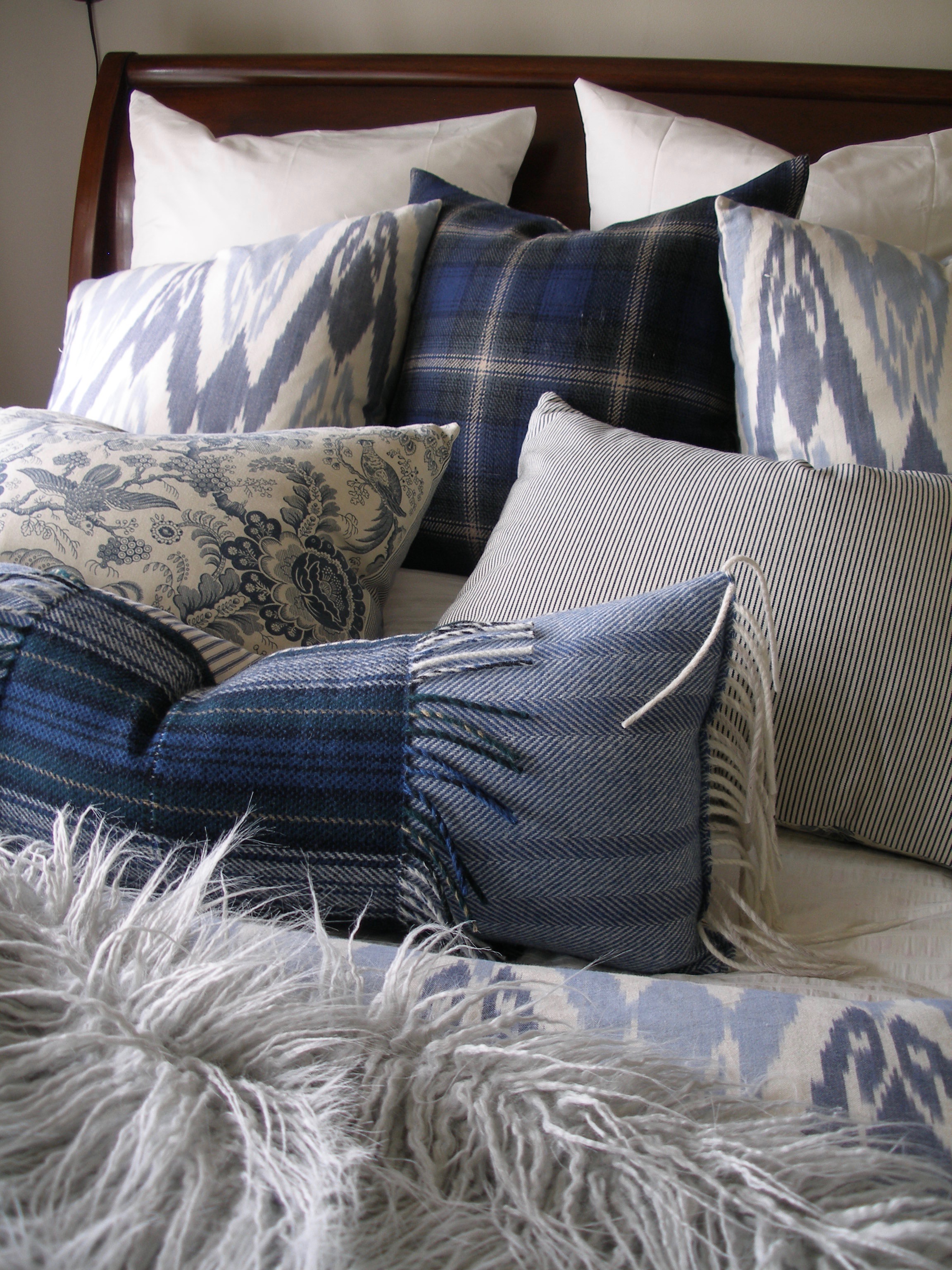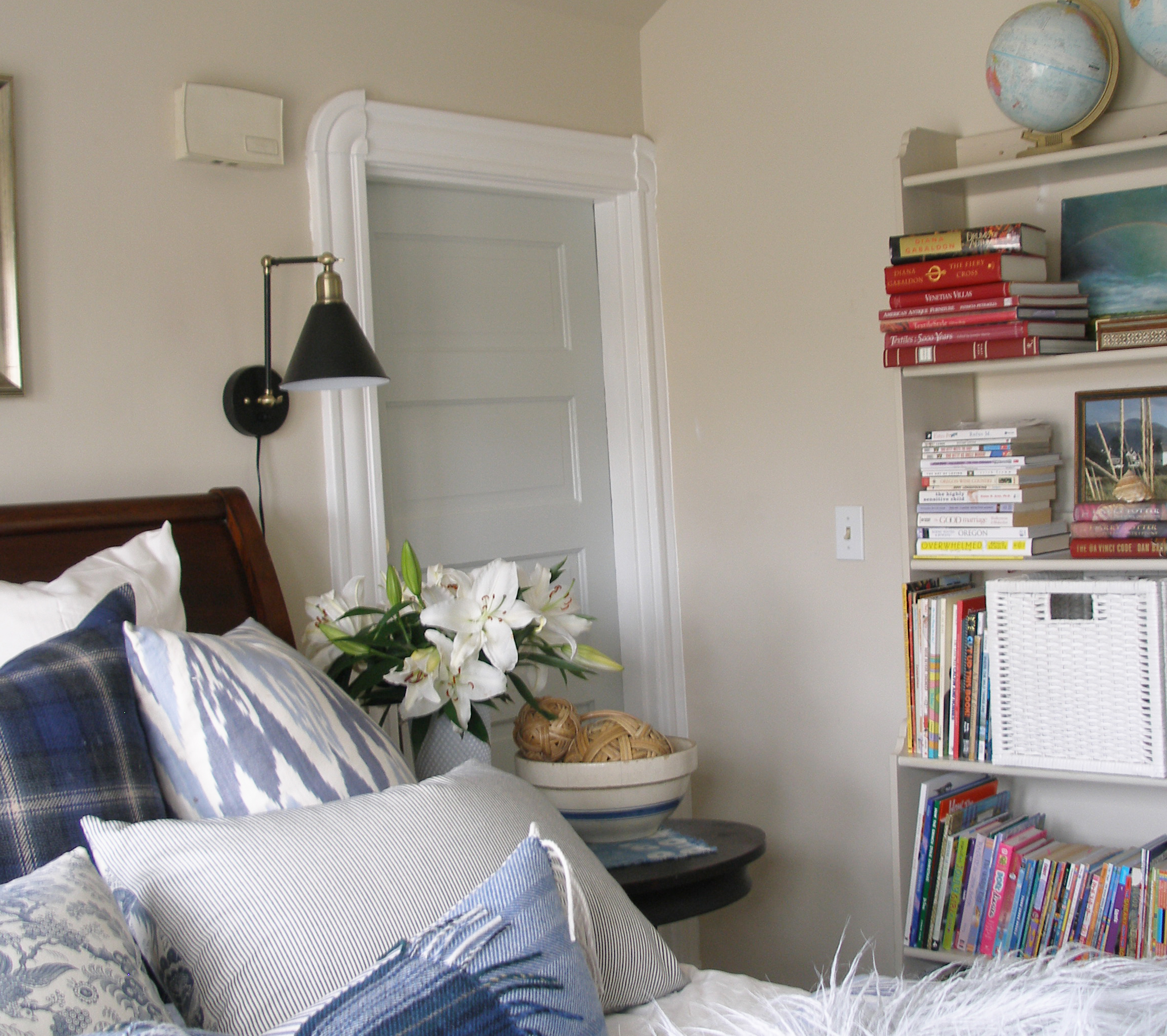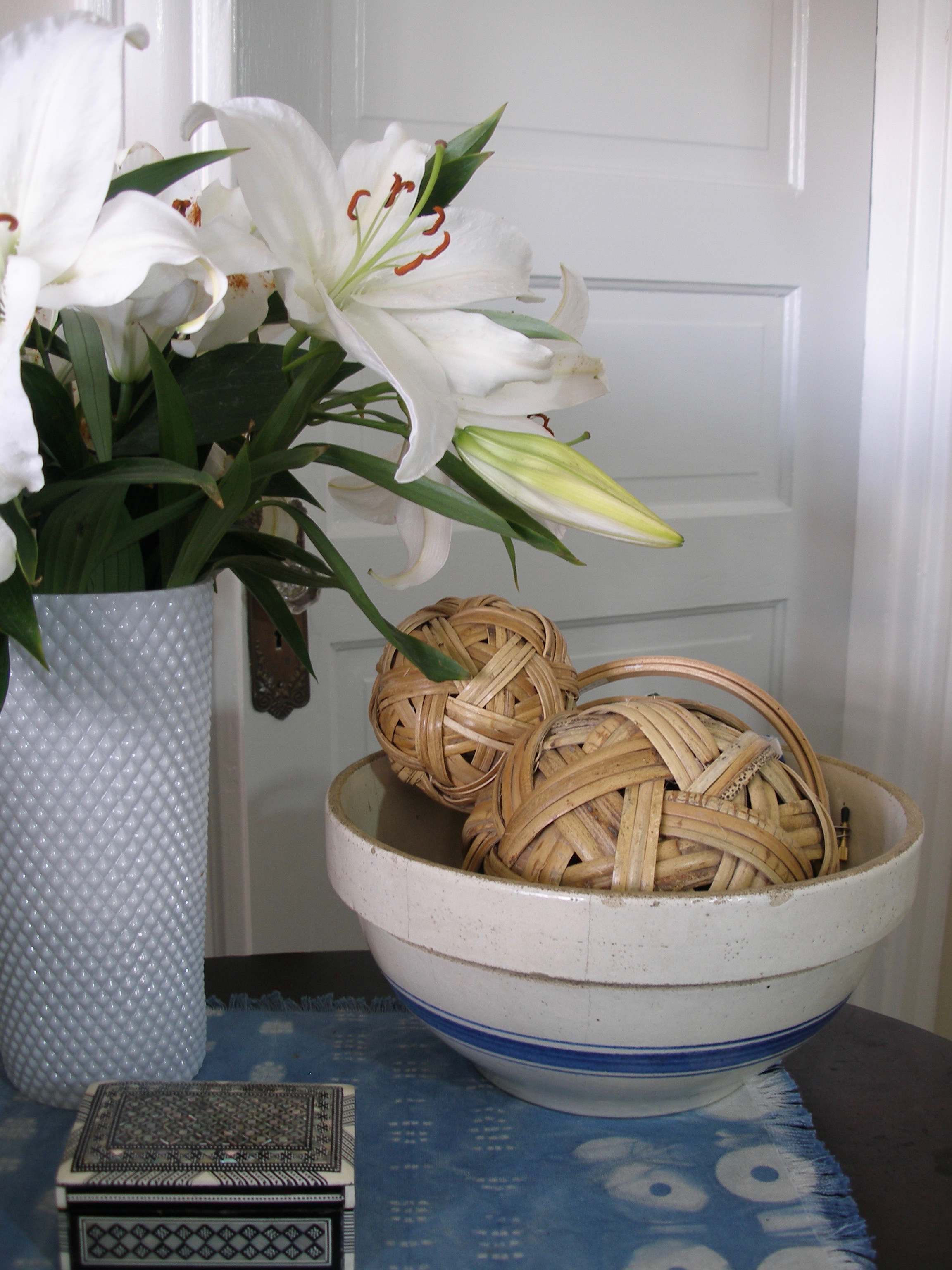 I called my neighbor, Virginie Hoover, who had some lovely SHIBORI textiles she made this Summer that gave me the more bohemian/beach vibe I was looking for.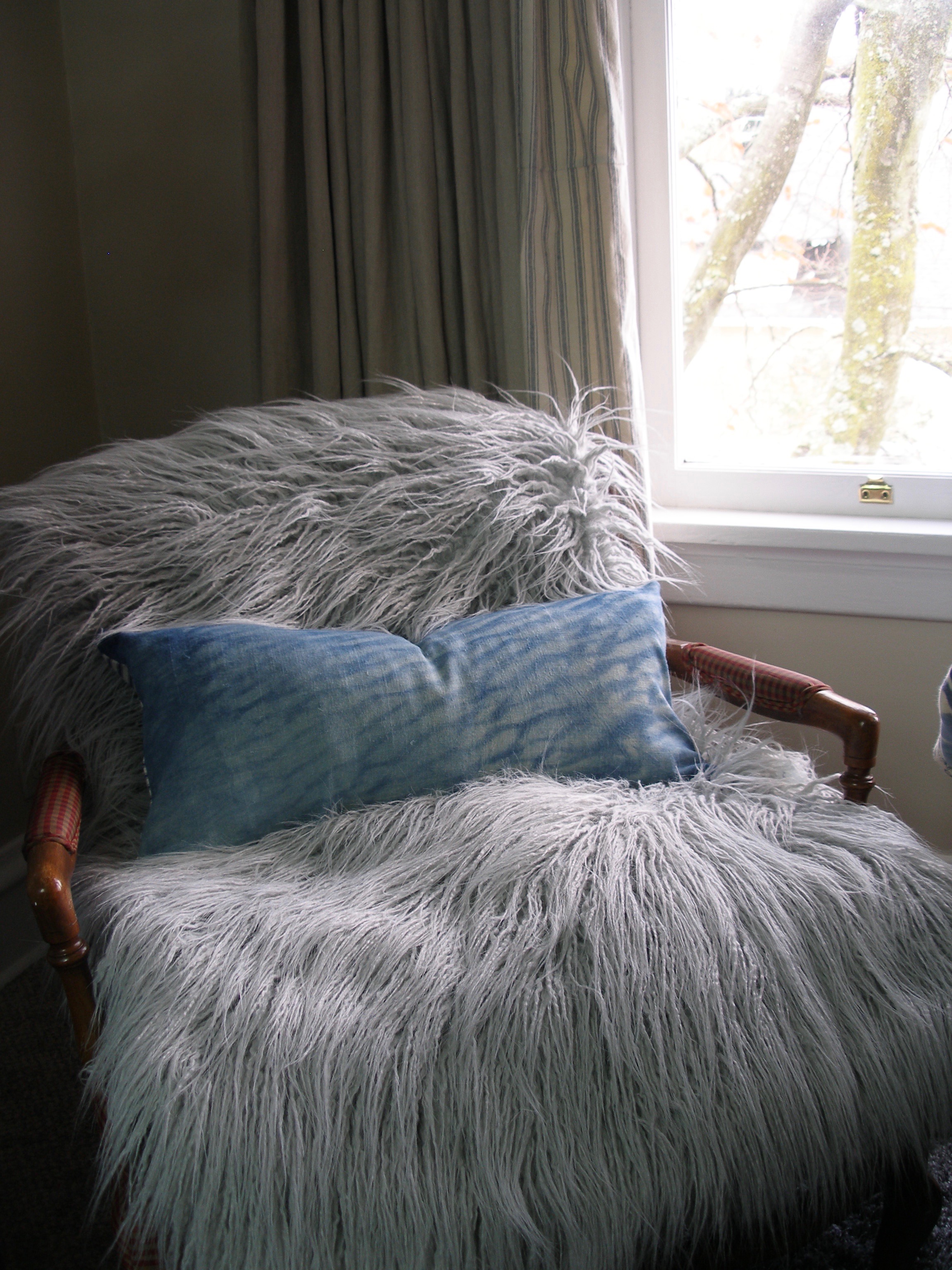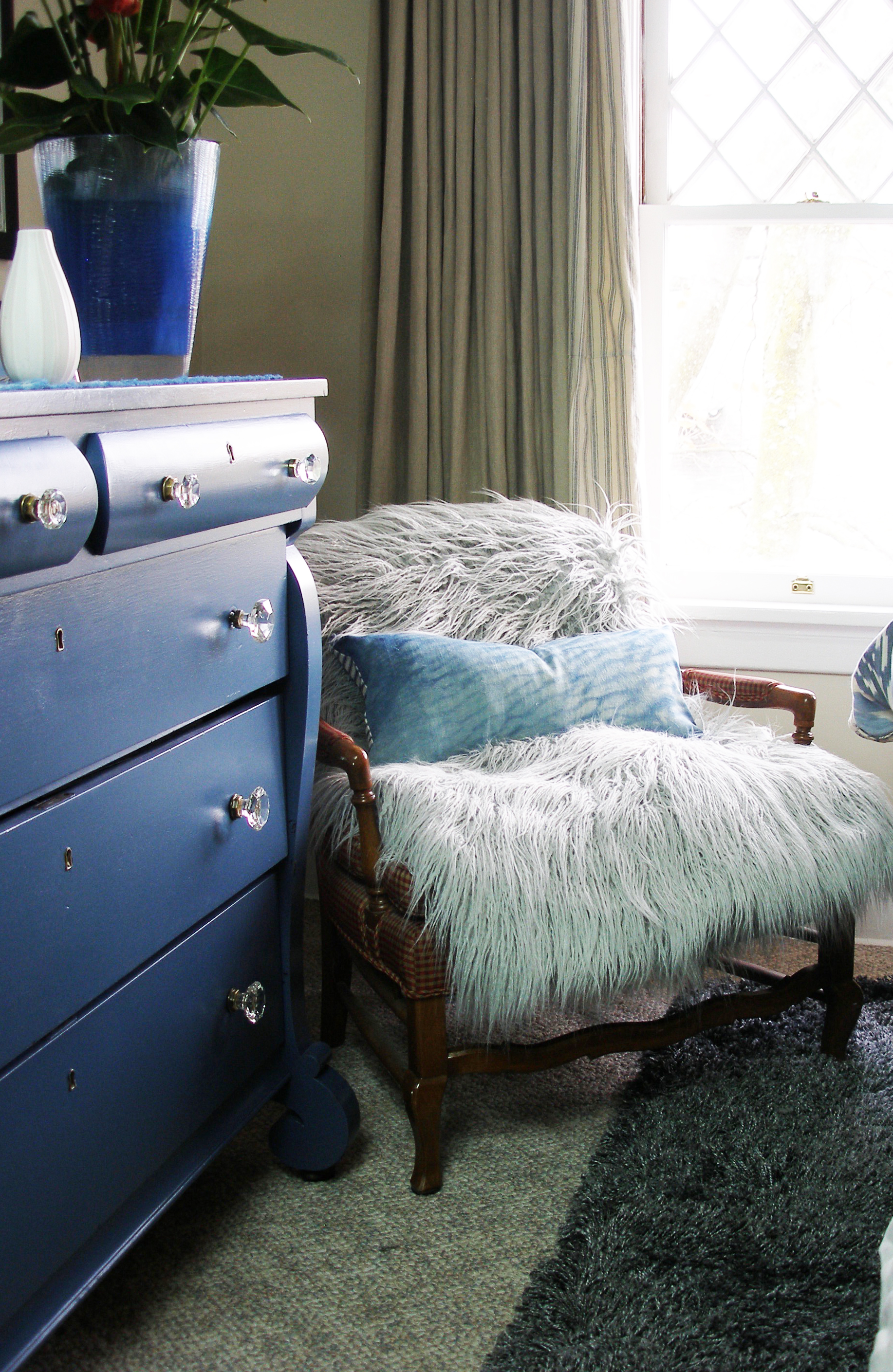 I went to GOODWILL for more frames and art, and printed some posters at WALGREEN's from my Iphone pictures that were done in one hour.  Fortunately, the local framers,I'VE BEEN FRAMED, were totally resourceful and accommodating and built some framing kits for me to assemble the art really fast.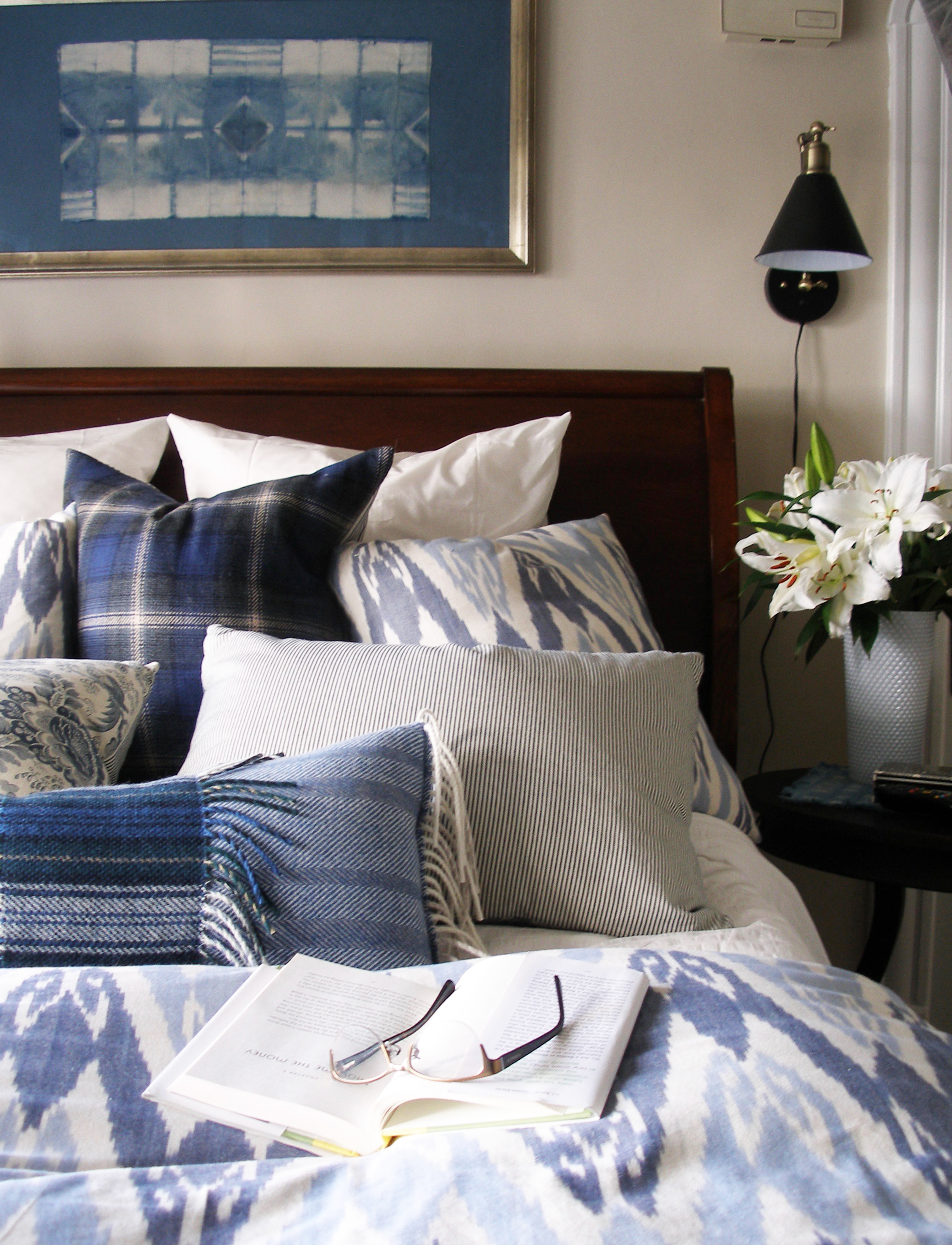 My kids were the best, and helped me paint the dresser. I was up until 4 am the night before the final reveal day painting trim and doors.  I was so exhausted and the extremely gray rainy day made it really hard to get any decent pictures.  SO finally today the SUN came out here and there and I ran upstairs to try to capture the room.  The night time shots I tried to take last night with artificial lights were horrible.
Something serendipitous always happens during a One Room Challenge when I go to Goodwill. This time I found a beautiful blue glass vase for $6.99 that had the original $59.99 price tag on it.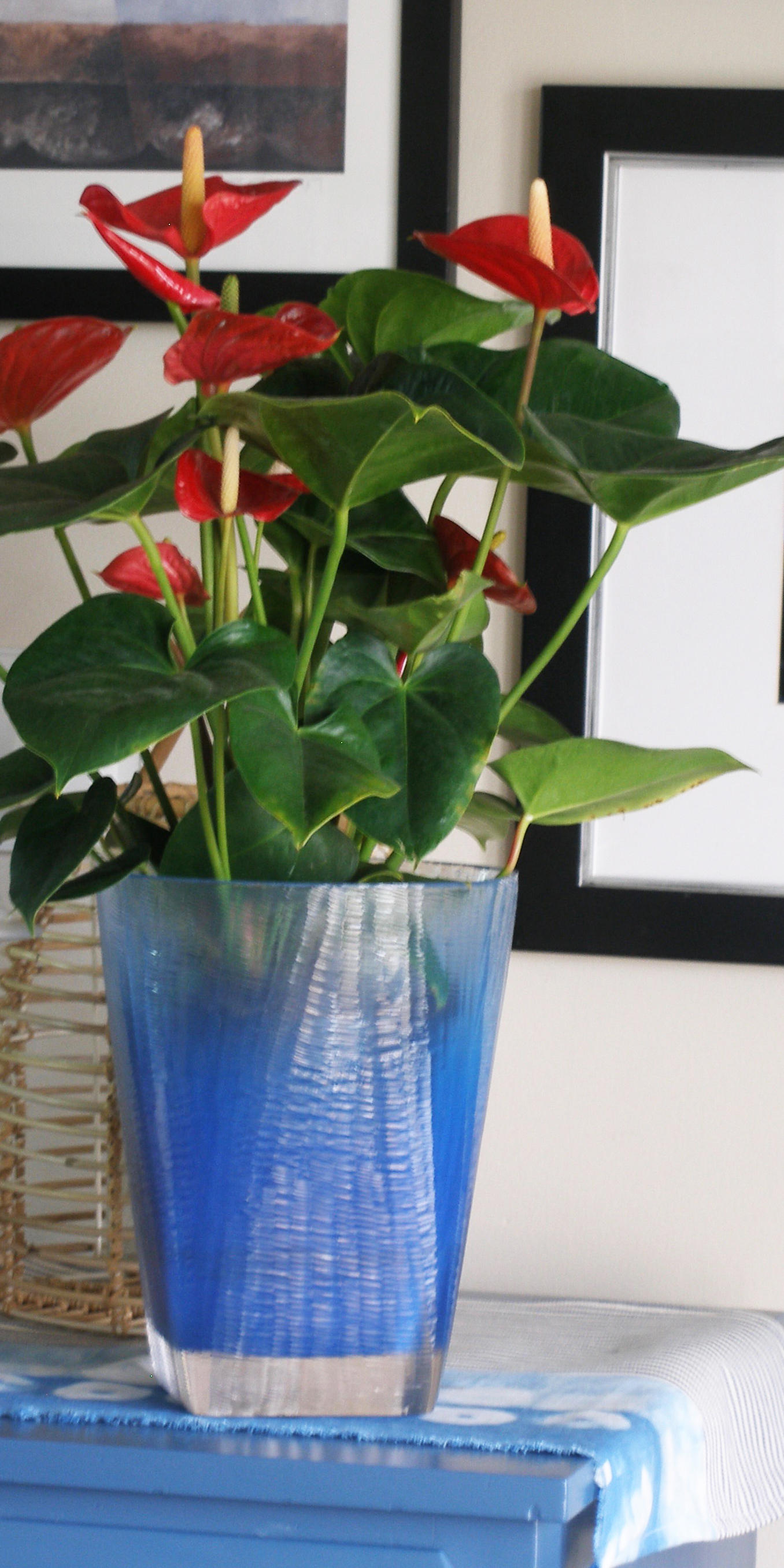 I also picked up a large framed poster really just for the frame but when I hung it up, oddly enough,  the watermelon print grew on me and really kind of pulled things together.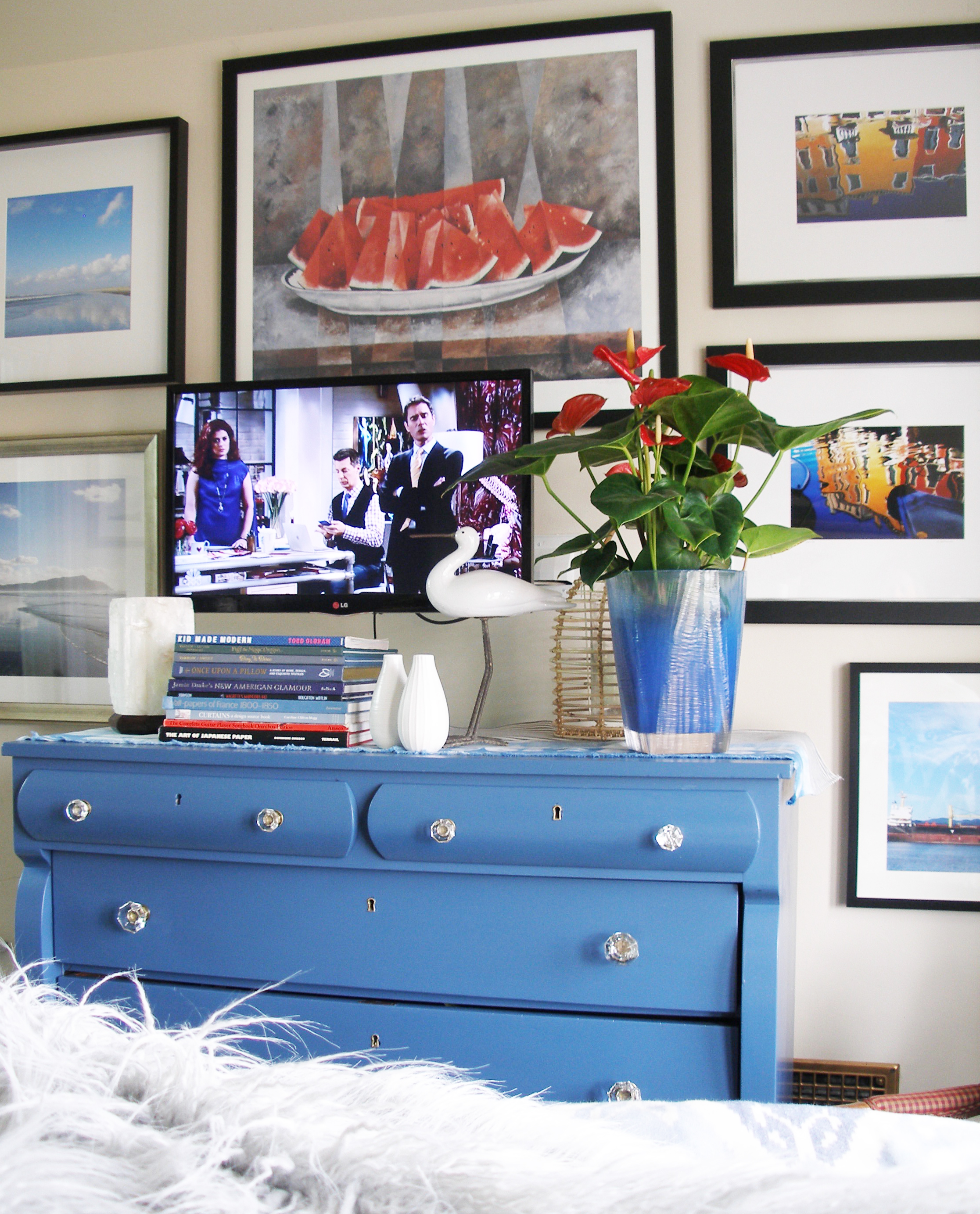 SOURCES
Here are the SOURCES for the above room – I'll do my best here:
PAINT COLORS:
WALLS – BENJAMIN MOORE MUSLIN
DRESSER – AMERICAN EMPIRE ANTIQUE, PAINTED BENJAMIN MOORE VAN HEUSEN BLUE with a few RESTORED CRYSTAL KNOBS from HIPPO HARDWARE
BOOKSHELF – IKEA
BELGIAN LINEN CURTAINS – WILLIAMS SONOMA HOME, with a few striped pleats added to the leading edges by STUDIO TULLIA
DOORS – BENJAMIN MOORE DOVE GRAY
TRIM – MILLER WHITE
SLEIGH BED – BERNHARDT, found for FREE, donated by a neighbor, on NEXTDOOR
GRAY SHAG RUG – IKEA
FRAMES – IKEA, except for the silver lead frames that are custom.
PHOTOGRAPHS – beach pictures taken with my Iphone and printed at WALGREEN's except for VENICE Photos bought at Artists' Co-op in  Monterey, CA.
SCONCES – LAMPS PLUS
ACCESSORIES –
White vases, frames, white baskets-  IKEA
Watermelon Print by MAZON found, blue glass vase and white ceramic sandpiper found at GOODWILL
BASKET HURRICANE – TARGET (found at Goodwill)
WOVEN BASKET BALLS – POTTERY BARN
Blue Striped Clay Bowl – GOODWILL
FAUX LLAMA FUR THROW & LINEN – custom made by STUDIO TULLIA
ALL BED LINENS – custom made by STUDIO TULLIA except for white linens – all from IKEA.  The fabrics were found at either FABRIC DEPOT, THE MILL END STORE or PENDLETON WOOLEN MILL ENDS
The BUNNY HUTCH PILLOW on the chair is a HUNT SLONEM print from GROUND WORKS/KRAVET.
CRYSTAL LAMP – CRYSTAL REFLECTIONS, CA
LINEN SHADES for ANTIQUE CHANDELIER – AMAZON
FLOWERS, PLANT – TRADER JOE's

And of course the wonderful FEATURED DESIGNERS via CALLING IT HOME's website:

Let me know what you think. Do you like the blue dresser? That was my biggest decision: what color to paint it.  I let my daughter pick it in the end.  Kind of wish it was a more indigo blue.
Thanks to Linda at CALLING IT HOME for creating and producing this legendary event that gives so many designers the kick in the XXX, accountability piece and collective motivation that seems to help bring these projects to fruition.
As always, thanks for reading along!